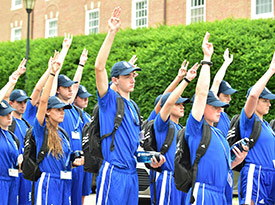 NEW LONDON, Conn – AIM is nearly three months away, but the preparation is here already. Second Class Cadet (2/c) Andrew Cruver is working hard to make this experience the best it can be for AIMsters.
"As Battalion AIM Officer, I coordinate alongside the Battalion AIM Logistics officer and the Battalion AIM Company Commander. Together, we develop a thorough summer program," said Cruver.
There are three AIM sessions, each a week of academics, military and physical trials. Cruver develops, with other Academy departments, a detailed schedule for every minute of the day from the second the AIMsters arrive on Sunday to the end of graduation the following Friday.
"This is called the Plan of the Week," said Cruver. "It's the guide the cadre and Admissions staff follow to keep track of the AIMsters, whether they're at waterfront sailing or in McAllister Hall for an engineering session."
In addition to logistics planning, Cruver selects and prepares cadre for their roles in leading the AIMsters.
"After selections are made, we plan cadre prep week, which is something that happens the week before AIM starts," said Cruver. "We rely on this handful of cadre to help us run the AIM program through the trust we place in them."
Cruver volunteered for AIM prep because it holds a special place in his journey. His own AIM experience was a strong factor in him saying "yes" to the Academy. His hope is that each AIMster can decern whether the Academy is right for him/her and use the experience as a tool in moving forward with college decision making. He leaves AIMsters with this final piece of advice.
"Arrive READY. Be ready to be pushed physically and challenged emotionally. Know that your cadre are there to test and train you while prioritizing your safety and success. As Coast Guard men and women, we are called to be "Always Ready," said Cruver.