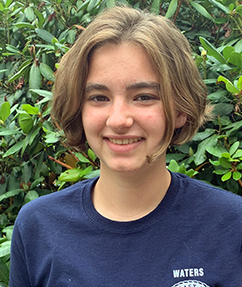 How is the food? 
We have cadets from other Academies that stay at the Coast Guard Academy for a semester. We called them exchangers. I have heard from multiple exchangers that the Coast Guard's food is the best! I personally really like dinner. There are a lot of choices.  Lunch, however, is more limited than dinner. So, sometimes the lunch isn't the best. It is also sometimes hard to eat healthy. You just have to be careful to choose the healthy options.  
What is the best part of the Academy? 
It is really nice to know that I am on a good path. I am getting paid to go to school, and I will have a job that I want when I graduate. A close second is the community that I have at the Academy. I have made live long friends and have had some truly amazing experiences.  
What is the worst part of the Academy? 
The Academy is pretty challenging and competitive. I have had to learn to relax and not put too much pressure on myself. 
Can you leave during the week? 
Freshman can leave on Saturdays and Sundays. Sophomores and juniors can leave on Friday, Saturdays, and Sundays. Juniors can stay overnight. Seniors can leave Thursday, Friday, Saturday, and Sunday. 
Can I bring my car? 
Nope, only seniors can have a car. 
What makes the Coast Guard Academy different from the other Academies? 
The Coast Guard Academy is really small. You get to know most of the school. The Coast Guard also doesn't have a ROTC program. I would encourage everyone to think about what branch they want to serve in after the Academy.  
Is the area nice? 
Connecticut is a great central location to Northeast. There is a train station only 10 minutes from the Academy. I also love hanging out in Mystic, CT.