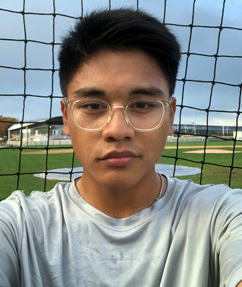 Reminiscing on my time as a swab, there is one instant I will never forget. During my time on Barque Eagle (a three-masted training ship), I was given one of the coolest opportunities and experiences of my life. For context, during our weeklong voyage from New London, CT to New York, the swabs including myself were put into specific duties that were necessary to keep the ship well-maintained and working. One of these duties was deck watch, which traditionally consisted of patrolling the top deck for hours on end.
This, however, was not the case for me. An hour into what seemed like a normal round, we were prompted by our division head that because of the changing weather conditions, as well as the setting sun, it was necessary for us to furl the main mast. This essentially meant rolling up the sail, which to my surprise was a totally manual operation. Just like that we were rigged into our safety gear and asked to climb up to the highest point on the mast 4/c were able to access. Considering we had only one other training course, this already put me in a unique situation to experience what many of my other shipmates had yet to experience. The next thing I knew I was where I needed to be. At that point, all I remember was standing on a singular dainty rope that hung below the mast clinging on to the sides, all while a fog and light drizzle came in. One could barely see more than 100 ft, yet here we were on top of a now slippery and wet metal structure grasping for the sail and heaving it over the mast to tie it over.
Words could not describe how I felt, as I could not decide whether I was in awe of how awesome being among the elements 3 stories above a sea of black or petrified of the abyss that surrounded me. Compared to the challenges and hardships that filled the majority of swab summer, it was instances like this that made the experience worth it. I am thankful for the opportunity, and I can't wait until I am able to climb even higher and do more unique opportunities during my time at the Coast Guard Academy.