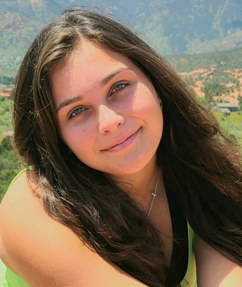 What were your first impressions?
When I arrived in Connecticut, I was picked up from the airport alongside other AIMsters and taken to the Coast Guard Academy. From there, we grabbed our bags and organized them against the sidewalk. We all got registered and met with others in our platoon. After orientation, the intensity began. The cadre came in with their formal uniforms and started yelling. We all filed out and began marching up the big hill to Chase Hall to get things going. Things were about to get real.
Rate the physical intensity of AIM on a scale of 1-10 (10 being the most intense).
8 – I wasn't surprised by the amount of physical intensity, but it definitely pushed me. I was prepared to push myself but there were times when I was standing at attention and I didn't know if I could push myself anymore. But I persevered and it was worth it.
What challenges did you overcome?
Keeping my "eyes in the boat." There was a lot going on at the Academy. Between the gorgeous scenery, the Swabs hard at work, the other platoons getting yelled at, and trying to memorize all the cadre's names, there was a lot to soak in. My mind was constantly moving and apparently my eyes were too. The cadre were quick to point it out and keep me on my toes. By the end of the week, I was more focused and acclimated to the environment.
Anything surprise you?
I was surprised to hear about the number of current cadets and alumni testimonies where their story began with no interest in the Academy. They told stories on how the Coast Guard Academy was last on their list or how their parents filled out the application for them. For me, it was a shock. I have been interested in the Academy for four years now and have worked tirelessly to achieve my goal of getting an appointment to the Academy. It really put into perspective for me that the Academy is made up of all different types of people with varied experience and interest. This also showed me that everyone's journey to get to the Academy is unique.
What was your favorite part of the program?
Getting  informal time with the cadre. We had the opportunity to sit down with them and get to know them. We learned the in's and out's of the Academy, their majors, and what their strengths and weaknesses were going into the Academy.
How have you changed?
The AIM week really lit a fire in me. It encouraged me to keep going and showed me the importance of working hard even when no one is looking. To have integrity and by working hard you will get what you deserve. The most important thing I learned from AIM was I can confidently say I believe the United States Coast Guard Academy is where I belong in service to my country and humanity.
What words of advice would you give to high school students considering AIM?
Be true to yourself. Apply as the person you are, not who you think they want you to be. AIM is a week of hard work, but also self-reflection. You will learn what it's like to be at the Academy and it is important to put your authentic self-first.