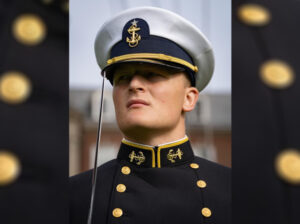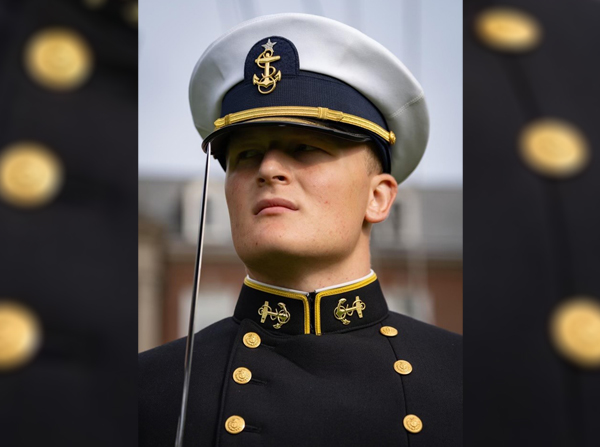 Regimental Commander. Wrestling Team Captain. And now Cancer Fighter. First Class Cadet (1/c) Coy Spooner is a natural born leader. The Minot, North Dakota native graduated high school and dreamed of owning a cattle ranch in Wyoming. Little did he know his small-town vision would turn into humanitarian service aspirations at the Coast Guard Academy.
"I was deathly afraid of military service," said Spooner. "But as I grew older, I realized the military would provide me with great opportunities and allow me to surround myself with like-minded individuals."
While at the Academy, the enthusiastic government major became a champion wrestler, earning All-American honors twice. He is currently the Regimental Commander, the Academy's senior ranking cadet responsible for leading the almost 1,100 members of the Corps of Cadets, but his biggest challenge came in the spring of 2023 when Spooner was diagnosed with Hodgkin's Lymphoma.
"I was scared. I didn't know what it meant for my career in the Coast Guard and if I would be able to graduate with my class, wrestle or fulfill my other obligations," said Spooner.
Deciding that cancer wouldn't become an excuse in his life, he knew that his desire to lead and inspire surpassed any doubts about his future. With the help of his family and the Academy community, he wouldn't allow his diagnosis to impact his passion to lead.
"The love and support I've received from my family, friends, teammates, and Coast Guard members keeps me pushing forward. I do not see this as a negative event in my life because I am a better leader and person because of it," said Spooner.
Spooner's medical treatments are on track to finish this fall, with an anticipated return to wrestling shortly after. With his positive attitude, he plans on leading the wrestling team to a National Championship. He will compete again come spring of 2024.
After graduation, Spooner hopes to report to a large law enforcement/national security cutter for his first assignment.