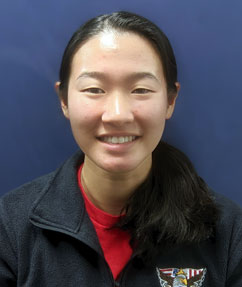 Track and Field: My main sport at the Academy is Track and Field. I am a thrower on the team and my favorite events are javelin and discus, but I also throw shot put, hammer throw, and weight throw on occasion. I actually never thought that I would compete in a varsity team after
high school, so being on the team provides me an opportunity to continue having fun doing things I love with some of the most amazing people and coaches. Although we expend a lot of time and sweat towards improving our strength and skills in the weight room or in the ring, our efforts pay off and it is great to see the growth in each and every one of us! Being on the Track and Field Team is not just about competing and beating your PRs, the community and teamwork creates strong bonds across the team. Additionally, because the throwers are a smaller group, we are really tight-knit and get to know each other really well. The team is also a family outside of sports. If one of us is struggling outside of the throwing ring/sector, there is always one of us to help whether it be academics, or just a rough week.
Brazilian Jiu-Jitsu Club: Even though I meet my sports/activities credit with Track & Field, in my free time, I also participate in the Brazilian Jiu Jitsu Club. Originally, I came in with no knowledge of wrestling or really anything related to the sport, but I can proudly say that I have learned a lot. Unlike the varsity team, our instructors are usually other cadets, although we have also had outside instructors come by and CG Officer Candidates teach some lessons. This really helps foster an open learning environment that also helps cadets with their leadership skills. Additionally, I have really grown to appreciate the sport, it both provides great stress relief and improves self-defense and body awareness skills which may come in handy in the fleet!