Christopher J. Gardner, MSc, Lieutenant Commander, USCG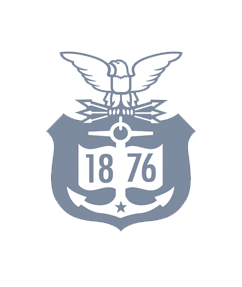 LCDR Gardner enlisted in the U.S. Coast Guard in 2007 and served at STATION Panama City Beach, Florida. In 2010 he earned a commission via Officer Candidate School and served afloat on the USCGC VIGILANT as a Deck Watch Officer and Department Head (2010-2012). His following tour was as the Operations Officer for the USCG Ceremonial Honor Guard in Washington DC (2012-2015). LCDR Gardner completed another bachelor's degree, and master's degree, focused in Medical Sciences from the University of Nebraska Medical Center from 2015-2017. After graduate school, he became a nationally board certified Physician Assistant and Medical Officer for the Coast Guard. He served in the USCG Academy Regional Practice clinic from 2018 until 2021 where he served as a primary care provider and Outpatient Department Supervisor. In 2021 he was given an instructor position within the Science Department to help create healthcare science-oriented courses, along with teach Chemistry.
LCDR Gardner continues to practice as a Hospitalist PA-c for Yale New Haven Healthcare, where he trained in Internal Medicine and Critical Care. He also serves as a Healthcare Science Editor for Pearson Education, a college textbook publisher for undergraduate education.
Education
B.S. in Information Technology, Florida State University
B.S. in Medical Science, University of Nebraska
M.S. in Physician Assistant Studies, University of Nebraska
Courses Taught
Microbiology
General Chemistry I & II
Anatomy & Physiology I & II
Selected Publications and Presentations:
Master's Thesis: Gardner, C. J. (2018). Post-Traumatic Stress Disorder: Comparing Efficacies of Cannabis versus Current Treatments. [Master's Thesis, University of Nebraska Medical Center]
Publication: The Journal of Infectious Diseases, Victoria T Chu, Esan Simon, Xiaoyan Lu, Patrick Rockwell, Glen R Abedi, Christopher Gardner, et. al, Outbreak of Acute Respiratory Illness Associated with Human Adenovirus Type 4 at the U.S. Coast Guard Academy, 2019, The Journal of Infectious Diseases, 2021;, jiab322, https://doi.org/10.1093/infdis/jiab322
Honors
CG Commendation Medal; "O" Device
CG Achievement Medal
CG Commandant Letter of Commendation Ribbon (x2)
USCG Physician Assistant Badge
USAF Biomedical Service Corps Badge
USCG Honor Guard Qualification Badge
Professional Memberships
American Academy of Physician Assistants (AAPA) fellow
Society of Hospital Medicine (SHM) member
National Hispanic Medical Association (NHMA) associate
National Commission on Certification of Physician Assistants (NCCPA); Board Certified
Practitioner License in Connecticut and Rhode Island as a Physician Assistant (PA-c)