Lisa Thompson, M.S., Lieutenant Commander, USCG, Instructor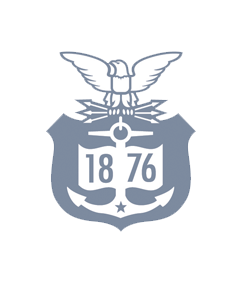 Lieutenant Commander Thompson earned a B.S. (with highest honors) in Marine and Environmental Science from the Coast Guard Academy in 2008. Her first assignment after graduation was as a Deck Watch Officer on USCGC WILLOW (WLB-202) in Newport, Rhode Island. LCDR Thompson then transferred to District Five Waterways Management and later to the National Aids to Navigation School, where she served as the Operations Section Chief and Instructor. She served temporarily on USCGC SEQUOIA (WLB-215) in Apra Harbor, Guam as the Operations Officer. She then served as Executive Officer of USCGA ASPEN (WLB 208) in San Francisco, California. Her last operation tour before the Academy was as Commanding Officer for USCGC JAMES RANKIN (WLM-555) in Baltimore Maryland. LCDR Thompson is a permanent cutter man and member of the Prevention Afloat community. LCDR Thompson earned her M.S. in Physical Oceanography from the University of Rhode Island in 2019, and is now a marine science instructor at the USCG Academy. LCDR Thompson's research at the University of Rhode Island ice formation in the Ross Sea, Antarctica.
Education
M.S. Physical Oceanography, University of Rhode Island, 2019
M.A. Transportation and Logistics Management, American Military University, 2017
B.S. Marine and Environmental Science, United States Coast Guard Academy, 2008
Courses Taught
Atmospheric and Marine Science
Oceans I
Selected Publications and Presentations
Poster Presentation at Polar 2018
Poster Presentation at the Sea Ice Symposium, 2019
Honors
Coast Guard Commendation Medal, 2
Coast Guard Achievement Medal, 2
Coast Guard Letter of Commendation, 2
Professional Memberships
Society for Women in Marine Science

Links from these pages to non-Coast Guard sites are provided as a customer service and do not represent any implicit or explicit endorsement by the United States Coast Guard of any commercial or private issues or products presented there.