Royce W. James, Ph.D., Commander, USCG (Permanent Commissioned Teaching Staff)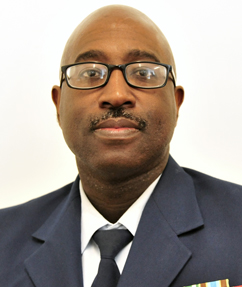 Prior to joining the Coast Guard, Dr. James served with AmeriCorps* National Civilian Community Corps (NCCC) as a Team Leader, he then graduated from USCG boot camp class Y-149 in 1996. CDR James attended New Mexico State University under the Coast Guard's College Student Pre-Commissioning Initiative (CSPI) program. While at NMSU, he held internships at the National Aeronautics and Space Administration (NASA) Goddard Space Flight Facility and at the National Science Foundation (NSF). Dr. James went on to become the lab manager for the NMSU/Los Alamos Low Temperature Materials Laboratory and graduated from NMSU in 1999.
After six weeks at Officer Candidate School, Dr. James was disenrolled due to an injury and subsequently reported to the Research and Development Center where he researched STCOM systems for shipboard communications. Six months later he restarted OCS and graduated in 2000. CDR James served as a Project Engineer at the Command and Control Engineering Center (C2CEN) and from there was selected for the Academy Instructor Masters program. Dr. James earned a Master's of Science Degree from Columbia University, and began teaching at the Academy in 2004. CDR James completed his Doctorate in Plasma Physics at Columbia's Plasma Physics Lab through Stevens Institute of Technology in December 2008. Since then he is the PI of the Coast Guard Academy Plasma Lab (CGAPL), Department Equity Officer, Science Lecture Coordinator, Internship Coordinator, and Co-founder/Director for CGA's Science Partnership for Innovation in Learning (Project SPIL).
CDR James is active with the youth of his church and was the co-founder and Chairperson of the Board of Trustees for the New London Freedom School. Dr. James lives in New London with wife, his three daughters, Isis James-Carnes, Yemaya James-Carnes, Sati James-Carnes, and son, Olorun James-Carnes. His wife Jessica James-Carnes is an Interfaith Minister in New London.
Education
Ph.D., Stevens Institute of Technology, 2008
M.S., Columbia University, 2004
B.S., New Mexico State University, 1999