Royce W. James, Ph.D., Captain, USCG (Permanent Commissioned Teaching Staff)
Professor, Physics
Department of Physics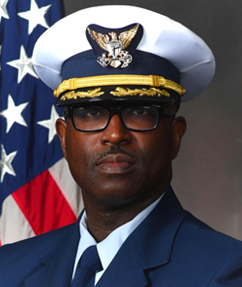 Prior to joining the Coast Guard, Dr. James served with AmeriCorps' National Civilian Community Corps (NCCC) as a Team Leader, then graduated from US Coast Guard Boot Camp class Y-149 in 1996. CAPT James attended New Mexico State University under the Coast Guard's College Student Pre-Commissioning Initiative (CSPI) program. While at NMSU, he held Internships at the National Aeronautics & Space Administration (NASA) Goddard Space Flight Facility and at the National Science Foundation (NSF), and served as a regional Rape Crisis Advocate for Doña Aña county, NM.
CAPT James worked as a Project Engineer at the Command and Control Engineering Center (C2CEN) and from there was selected for the Academy Instructor Masters program. Dr. James earned a Master of Science Degree from Columbia University, and began teaching at the academy in 2004. CAPT James completed his Doctorate in Plasma Physics at Columbia's Plasma Physics Lab through Steven's Institute of Technology in December 2008. Since then he has been the PI of the Coast Guard Academy Plasma Lab (CGAPL), Department Equity Officer, Science Lecture Coordinator, Internship Coordinator, Co-founder/Director for CGA's Science Partnership for Innovation in Learning (Project SPIL), Genesis & Spectrum Council (CGA's Black and Gay Student Unions) and the Science Department Diversity & Inclusion Officer.
CAPT James, a 2019 Black Engineer of the Year Award (BEYA) winner for Professional Achievement in Government, is a founding member of the Black Lives of Unitarian Universalist's Organizing Collective, is the co-founder of the New London Freedom School, is a co-founder and Chair of the American Physical Societiy Division of Plasma Physics's (APS DPP) Diversity Equity and Inclusion Organizing Collective Committee (DEI-OCC), co founder of the Coast Guard Spectrum Affinity Group, founding Science Technology and Mathematics Magnet School Board Member, and Member of the Nuclear Energy Advisory Council for the state of CT (currently on leave of absence).
Recently, CAPT James served as the Air Force Institute of Technology's innagural Chief Diversity Officer and Visiting Professor in the Engineering Physics Department with research primarily in fusion energy, laboratory and space based magnetized plasmas, plasma interactions with electromagnetic radiation (with emphasis on high energy lasers), CubeSat payload and spacecraft development, and plasma water treatment. CAPT James returned to the Coast Guard Academy faculty this summer as a full professor, remains the PI of CGAPL, and is the Collaboration for Space & Energy lead. Dr. James' family, three daughters, son, and wife, the Reverend Jessica James, Unitarian Universalist Minister, currently live in New Haven, CT with their two dogs Ebi and Levi.
Education
Ph.D., Stevens Institute of Technology, 2008
M.S., Columbia University, 2004
B.S., New Mexico State University, 1999