Richard W. Sanders, Ph.D. Captain, USCG (Permanent Commissioned Teaching Staff)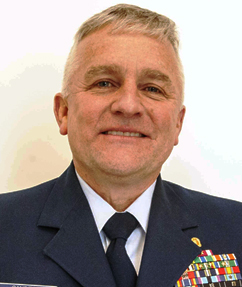 Richard W. Sanders received a B.S. degree in Applied Science from the U. S. Coast Guard Academy in 1987. He earned his M.S. (Chemistry, 1995) and Ph.D. (Chemistry, 2002) from the University of Connecticut. Captain Sanders has been a member of the Coast Guard Academy faculty since 1995. Since 1997 he has served as a member of the Permanent Commissioned Teaching Staff.
Captain Sanders teaches Organic Chemistry, General Chemistry, and additional upper-division chemistry courses in the Marine and Environmental Sciences major. Research interests include synthesis and application of laser-absorbing dyes and undergraduate chemical education. He has served as the Associate Dean, Department of Science Chair, and as the Program Coordinator of Cadet Coastal Sail Training Programs.
Captain Sanders is active in diversity and outreach initiatives and currently serves as the advisor to the Coast Guard Academy Scuba Club.
Education
Ph.D., Chemistry, University of Connecticut
MS, Chemistry, University of Connecticut
BS, Applied Science, U.S. Coast Guard Academy
Courses Taught
General Chemistry
Organic Chemistry
Inorganic Chemistry
Coast Guard History
Selected Publications and Presentations
Teaching Electrochemistry in the General Chemistry Laboratory through Corrosion Exercises, Richard W. Sanders, Gregory L. Crettol, Joseph D. Brown, Patrick T. Plummer, Tara M. Schendorf, Alex Oliphant, Susan B. Swithenbank, Robert F. Ferrante, and Joshua P. Gray, Journal of Chemical Education 2018 95 (5), 842-846 DOI: 10.1021/acs.jchemed.7b00416
Sanders, R.W., Initial Corrosion Assessment of the Tanker Coimbra, Prepared for the FOSC/CG Sector Long Island Sound, July 14, 2017
Delgado, J.P., et. al., Deep-Sea Research Part II (2017), http://dx.doi.org/10.1016/j.dsr2.2017.05.013
Honors
Coast Guard Meritorious Service Medal
Professional Memberships
American Chemical Society
National Association of Corrosion Engineers
Association of Naval Service Officers
American Academy of Underwater Sciences