Cadet Robert Altom
Former Machinery Technician Third Class
Hometown: Glen Rock, PA
Major: Cyber Systems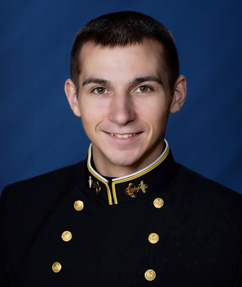 I come from a military family so, from an early age, I knew I would join one of the services. The greatest influence on my decision to join the Coast Guard was my grandfather, a retired Coast Guard Chief Warrant Officer. He often told me about things he did in the Coast Guard like serving at LORAN (Long Range Aids to Navigation) stations such as LORAN Station Kure Island. My family, as a result, supported my decision to join the Coast Guard. My grandfather even presented me with my graduation certificate after completing basic training back in 2014!
Attending Airmen Leadership School at Anderson Airforce Base, being responsible for the Damage Control Program aboard my cutter and responding to a major hydraulic oil leak while underway all prepared me for my time here at the Coast Guard Academy. Specifically, these experiences, along with many others, challenged me in different ways and helped me grow. They shaped my thought processes making me a better critical thinker and helped me handle difficult and sometimes stressful situations. I implement these skills at the Academy, share my experiences and create bonds with my fellow classmates.
I envision myself completing at least a 20-year career with the Coast Guard. I would like to use the experiences gained from my enlisted and cadet time to make beneficial enhancements to the Coast Guard Officer Corps.
If you don't get in on the first try, keep applying! It took me five years to get here! Additionally, once you are accepted, do not be afraid of the five-year service commitment. It is a major transition from enlisted life, however there are many people here who will aid you in the process!
Applicants with potential to contribute at a high level, who are not prepared academically, may be offered the opportunity to attend Coast Guard funded preparatory school before enrolling in the Academy. This is called the Coast Guard Academy Scholars (CGAS) Program.
Cadet Clayton Forfinski
Former Boatswain's Mate Third Class
Hometown: Farwell, MI
Major: Operations Research and Computer Analysis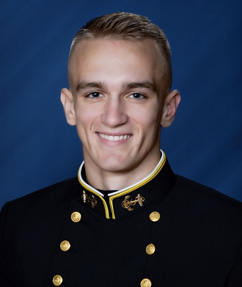 Coming to the Academy after being enlisted for several years was a culture shock. I was nervous and unsure of what to expect. What caught me off guard was the overwhelming excitement for the Coast Guard service itself and admiration for its members.
Heading into my first semester, I was nervous about potentially struggling in my classes and comparing myself to my recently graduated classmates. After a short time, however, I realized that I could succeed far beyond my expectations. The faculty at the Academy is committed to each cadet's success. After a few conversations with the math department, I was quickly sold on the Operations Research & Computer Analysis (ORCA) major. Now, I am doing things every day that I would have never imagined myself being capable of.
Overall, Coast Guard life out in the fleet mirrors the close-knit community at the Academy. Everyone knows everyone and is always willing to lend a helping hand. From the outside, many aspects of cadet life seem daunting. From within the Corps of Cadets, however, many of the challenges that seemed significant are attainable when you are alongside your peers.