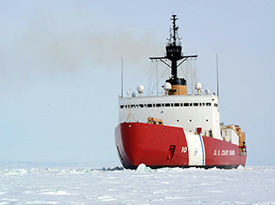 A Coast Guard operational obstacle became a mechanical engineering capstone project in 2017. Today, the final product received; a design patent and is currently underway in the fleet. It took the foresight of former cadet LCDR Kara Burns to identify the issue and bring it to the Academy classroom.
It started aboard Coast Guard icebreaker POLAR STAR. Then Ensign Burns started her first tour as an engineering officer in training. She noticed that every time the cutter broke ice, the anti-rotation bar would break, disabling the ship and it's propulsion system.
"Every time one of these bars fails, the cutter must come to a complete stop in the ice and get repaired. It is a 4-to-12-hour repair depending on the failure method and extent of the damage," said Burns.
Continually mindful of this problem, Burns was then stationed as a mechanical engineering faculty member at the Academy for her second tour. She oversaw the first-class cadets' capstone projects.
"This is where I saw the power of a Coast Guard related problem and the passion the cadets showed towards making things better for their shipmates in the fleet," said Burns. "When I eventually transferred from the Academy and back to the fleet, I knew I wanted to stay connected to my colleagues at CGA but also the mechanical engineering program, so I kept an eye for issues or problems that could be solved by 3 to 5 cadets."
Burns found herself back on POLAR STAR as the engineering officer. Sure enough, history repeated itself as she observed the same breakdown of the anti-rotation bar.
"I decided to reach out and pitch my idea for a capstone project, to come up with a design to fix this issue. Upon Academy approval, we officially had a project," said Burns. "And just our luck my new AEO, had a brother who was a mechanical engineering cadet. A team of cadets visited us while we were in port, took some pictures, talked to the crew and went back to the Academy to start exploring solutions."
Once the cadets completed the design concept, it was turned over to the larger Academy engineering department for final production. Today the mechanism recently received a utility patent and is currently in use on POLAR STAR and is now being used for its second deployment to Antarctica.
Learn more about Mechanical Engineering at the Coast Guard Academy.