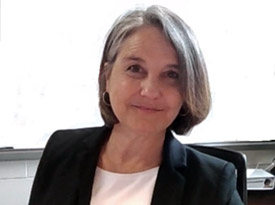 Dr. Lucy Vlietstra loves working with cadets. And when she's not challenging them with the marine & environmental sciences (MES) curriculum, she's being challenged by them.
"Cadets have an outstanding work ethic that inspires me to develop challenging, authentic, and meaningful learning experiences," said Vlietstra.
Having lived all over the United States, Vlietstra brings a wide array of dynamic interaction to her classroom. She promotes a positive, open atmosphere where cadets are encouraged to think aloud, discuss ideas, and ask questions about anything on their minds.
"I feel that the undergraduate classroom should be a place where students can explore ideas both within and outside their typical scopes of interest, so I celebrate unexpected 'what if' questions that take the discussion one step further than my lesson plan had intended," said Vlietstra.
Currently, Vlietstra 's areas of expertise in marine ecology emergency management are being combined to support cadet research.
"I am working with cadets on research that investigates sea ice loss in the Arctic Ocean and its effects on the location, type, and volume of ship traffic in the region," said Vlietstra. "The cadets recently presented their work to working professionals at the annual GEOINT Symposium in St. Louis, MO."
These projects are part of the expanding curriculum in geospatial intelligence at the Coast Guard Academy, which Vlietstra helps oversee.
Discover all the opportunities the MES major offers.