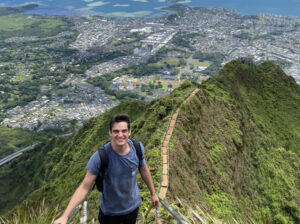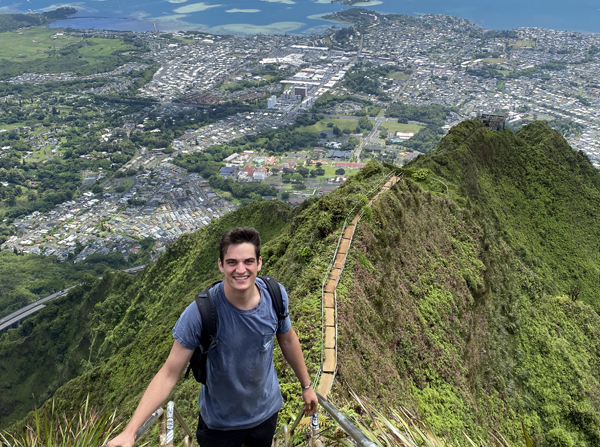 Civil engineers are critical to the Coast Guard mission. During his internship at Coast Guard Base Honolulu, Hawaii, First Class Cadet Ben Wagner saw why.
"Civil engineers in the Coast Guard do a lot of essential work managing ashore infrastructure. I wanted to understand how it works and explore it as a possible option after I graduate," said Wagner.
Wagner and his classmate worked on a major project – putting together a package and cost estimate to renovate the barracks at Coast Guard Base Honolulu. Living in the barracks during his time in Hawaii helped him understand first-hand how the improvements would positively impact living conditions. Needed renovations included replacing lighting and plumbing, installing a fire sprinkler system, replacing flooring and exhaust fans for bathrooms, and investigating the air quality to evaluate the HVAC system. He also researched installing tinted double-pane windows to combat the Hawaiian heat and sun.
"To fully develop the renovation plan, we had to explicitly describe what we wanted included in the design along with timelines for collaboration with the civil engineering unit and checkpoints to ensure that project design was approved," said Wagner.
Wagner completed the entire Statement of Work and submitted it to the budgeting office in the civil engineering unit for approval. Next it went to the design firm to begin that phase of the process. Taking on such a project, Wagner improved his leadership skills by learning how to delegate better and trust the people he was working with for their support and expertise. He realized that civil engineering in the Coast Guard is critical for mission support.
"Before this, I wasn't really thinking about civil engineering as a career, but now I can see myself doing it further along in my professional life," said Wagner.
Learn more about civil engineering at the Academy.