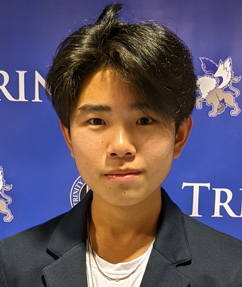 What interests you about the Academy and what made you apply to AIM?
The Coast Guard Academy (CGA) is unique in that its emphasis on saving lives and helping others is very important to me. I always work well with people and love serving and caring for others and the Coast Guard's mission fits my desire and future. I also like that CGA is much smaller in comparison to the other service academies and since it does not require a congressional nomination, CGA can appoint candidates who are like-minded in that they want to serve the country in different ways.
I learned about the AIM program when my brother applied and attended. In addition, a number of students from my high school attended AIM and they shared lots of good stories. They all mentioned it was a very intense summer program compared to other service academy summer programs, but they loved the experiences and talked nonstop about the friendships they made and the funny moments. These stories and experiences are what made me apply for AIM. I expect to have a peek into swab summer but also hope to make new and interesting friends along the way.
What is the #1 thing you've done to prepare for AIM?
In preparation for the physical demands of AIM, and the physical fitness exam (PFE), I have gradually increased the intensity and duration of my workouts. I want to make sure my body is prepared to go through the intense training that awaits me in which the cadre will be hard on us. If I cannot keep up, then I will not only drag myself down but others as well.
I attended the CGA Genesis program last year where I scored 215 points on the PFE, but I want to exceed and set a personal record.
What would you like your fellow AIMsters to know about you?
I would like my fellow AIMters to know that I am a very sociable and approachable person. I am very open to people. I believe that being respectful and kind and having empathy for each other will make a team work better and more smoothly, so I try my best to make others comfortable around me.
What are you most looking forward to?
I am looking forward to all the physical team-building exercises because I am interested in learning about my capabilities and limitations and capabilities of others and seeing how different ideas and mindsets can work together as a group. I thrive on leading and helping others to achieve their goals and getting to know each other will make us closer and make bonds stronger.
Any hesitations about your AIM week?
I am very excited about spending a week at CGA. I have heard many good things about others' experiences and have yet to meet anyone who has regretted attending. My older brother attended AIM a couple of years ago and we saw how he transformed from an introverted/shy person to a more confident person.
What do your peers think about your service academy aspirations?
Everyone at my high school knows that I want to attend a service academy. Outside of school, my friends are not very interested in the military career and mostly push it off to the side. It does not really influence me, but it does make me different since it is a unique career path. My school does produce a lot of kids going into ROTC or service academies so many people are supportive of me (both friends, family, and teachers).