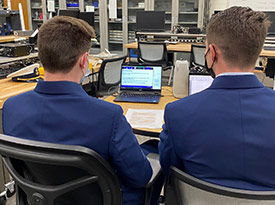 NEW LONDON, Conn. – The Coast Guard Academy won first place in the semi-finals and tied for first place in the finals. First Class Cadets Ryan Von Brock and Jacob Schellman made up the team that took home the prize at the annual Lockheed Martin Ethics in Engineering Case Competition.
Hosted virtually this past March, the competition prepares undergraduate engineering students for a professional competition. One of the objectives of this competition is for the students from different technical engineering disciplines to face the ethical challenges of the 21st century. Each team received the same case study to analyze it from various perspectives and presented their recommendations.
"In speaking with a number of our instructors at the Academy, we were able to gain valuable technical insight that we would not have had at any other institution," said Schellman . "Since this competition was centered around our capacity to examine the ethical impacts of our choices, Ryan and I had a strong background thanks to the three and a half years of ethical development the Academy has given us so far."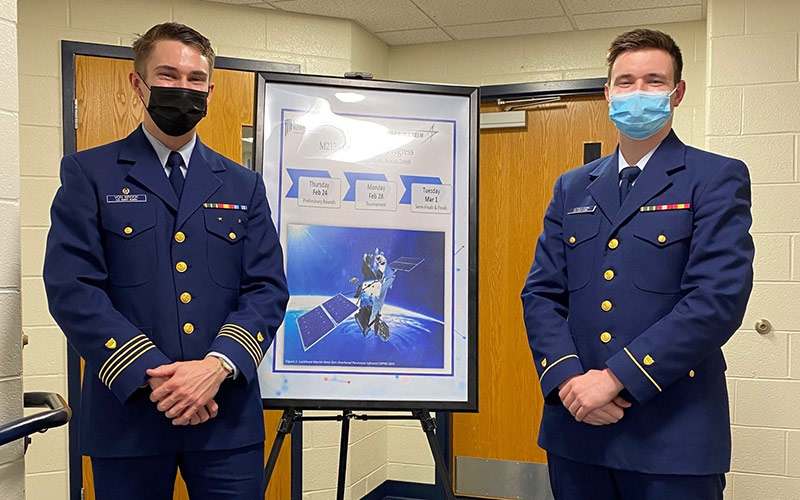 First Class Cadets Ryan Von Brock and Jacob Schellman
"The ambiguity and lack of specific details about the case competition made preparation interesting. We familiarized ourselves with some technical aspects of the case—including basic collision avoidance maneuvers in orbit—as well as the costs and challenges associated with these. Beyond this, we laid out the details of the case in order to identify second and third order effects," said Von Brock.
The Coast Guard Academy tied for first with the Airforce Academy.
"Here at the Coast Guard Academy, we have ample opportunity to learn in controlled environments. Mistakes and failures are encouraged, and the highest emphasis is placed on learning onboard the 103 acres here. At some point in every cadet's career, though, we are afforded the opportunity to see how the hard work we have put in has developed us. For me, this opportunity was the Lockheed Martin Ethics in Engineering Case Competition. I cannot stress enough how I feel that I have grown in confidence and ability thanks to the lessons I have learned here at the Academy. Further, I know with absolute certainty that I am a better person thanks to those same lessons," said Schellman. Start your Coast Guard
engineering career
at the Academy.