CAPT Esan O. Simon, MD, MBA, FS, USPHS
Medical Director/Regional Practice Director
U.S. Coast Guard Academy, New London, CT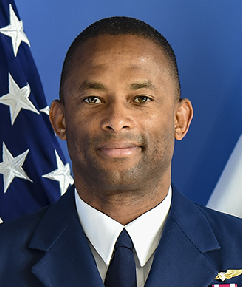 As the Medical Director for the U.S. Coast Guard Academy since 2019, CAPT Simon is responsible for the comprehensive health care needs of the patient population consisting of cadets, officer candidates, and military employees.
Previously assigned at the Immigration & Customs Enforcement Health Service Corps (IHSC) Headquarters in Washington, DC in 2016, he served as the Associate Medical Director (AMD) and Medical Executive Officer where he was responsible for direct oversight of the Behavioral Health Unit, the Public Health, Safety, & Preparedness Unit as well as the Medical Case Management Unit. Additionally, he was responsible for the development of Clinical Academic Affiliations, the IHSC Clinical Services Division Strategic Action Plan as well as acting Deputy Assistant Director of Clinical Services & acting Assistant Director as required in support of IHSC's $249 million healthcare enterprise and 1,300+ multidisciplinary workforce which provided daily care for over 40,000+ patients and screened over 200,000 patients/year.
A 2017 graduate of the Interagency Institute for Federal Healthcare Executives, Simon graduated from Harvard University in 1994 with a Bachelor of Arts (AB) degree in Biology and received his Doctor of Medicine (MD) degree from Emory University in 1998 where he was enrolled in the U.S. Navy's Armed Forces Health Professions Scholarship Program. Following graduation, he was commissioned as a Lieutenant in the U.S. Navy, completed an internship in Pediatrics at Naval Medical Portsmouth in 1999 and then completed 6 months of U.S. Navy Flight Surgeon training becoming a designated U.S. Navy Flight Surgeon in 2000.
His first operational assignment as Medical Department Head for Carrier Air Wing THREE at Naval Air Station Oceana, VA included numerous CONUS & OCONUS training detachments as well as a six-month deployment to the Persian Gulf aboard the USS Harry S. Truman (CVN 75) in 2000. In his subsequent assignment as Flight Surgeon for the Naval Aviation Schools Command in Pensacola, FL in 2002, he was responsible for the medical care and screening of naval aviation aircrew candidates as well as Officer Candidates. During this time, he completed a Master of Business Administration (MBA) in Healthcare Administration at Tourou University in 2004 graduating Summa Cum Laude and was promoted to LCDR (O- 4). He was then accessed into the Public Health Service (PHS) through an inter-service transfer from the U.S. Navy in 2004 and detailed to the U.S. Coast Guard (USCG).
His first USCG assignment was a Senior Clinical Specialist/Flight Surgeon and subsequent Senior Staff Medical Officer/Flight Surgeon at Air Station Elizabeth City, NC where he flew on multiple Coast Guard operational aircraft and deployed in support of Hurricane Katrina where he served as the Medical Unit Leader at the USCG Forward Operating Base in New Orleans, LA.
Selected for out-service Family Medicine residency training in 2007 at the Mayo Clinic in Scottsdale, AZ and promoted to CDR (O-5), he authored multiple scholarly publications and served as the President of the Mayo Clinic Arizona Residents & Fellows Association which was comprised of over 150 physicians in Graduate Medical Education residencies and fellowships throughout the Mayo Clinic enterprise.
He subsequently served as the Medical Director at Training Center Cape May, NJ in 2010 where he was responsible for the provision of health care services for all Coast Guard recruits in boot camp. Follow-on assignment as Flight Surgeon at USCG Air Station Clearwater, FL in 2012 included designation as the Senior Medical Executive for USCG District 7 with oversight of all Medical Officers in the region. He was promoted to CAPT (O-6) in October 2014.
Some of Simon's awards and honors include the USCG Meritorious Service and Commendation (Operational Distinguishing Device) Medals, the Navy/Marine Corps Commendation and Achievement Medals, the Armed Forces Expeditionary Medal, the Public Health Service Crisis Response Service Award, the Arizona Academy of Family Physicians Grobe Award Recipient for state-wide outstanding Family Medicine 3rd year Resident, and the Mayo Clinic Arizona Family Medicine Residency Program Director's Award for performance excellence.