Charlie Company Officer
U.S. Coast Guard Academy, New London, CT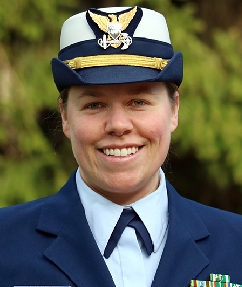 LT Kimberly Shadwick reported to the U.S. Coast Guard Academy in 2017 as the Charlie Company Officer. She serves as the Regimental Officer, working directly with the Regimental Staff to oversee daily operations of the Corps of Cadets.
Prior to reporting to the Academy, LT Shadwick was a Command Duty Officer at Sector San Francisco, where she coordinated Search and Rescue missions performed along 2,500+ miles of shoreline in the Bay Area. Before that, she served aboard USCGC GALLATIN and USCGC DALLAS, as the Weapons officer and a Deck Watch officer. She and the ships company decommissioned and transferred both cutters to foreign militaries.
LT Shadwick is a 2011 Academy graduate with a Bachelor of Science degree in Marine Environmental Sciences. She was a member of the Swimming and Water Polo Teams.
LT Shadwick lives in nearby Westerly, RI with her husband, a Coast Guard LT who works at the Civil Engineering Unit in Providence, RI. They will rotate this summer to San Juan, Puerto Rico to take on more responsibility in new assignments.