Godwyn Piang Nee
Republic of Mauritius
Major: Marine and Environmental Science
Sports: Triathlon
Clubs: Service Marksmanship Training, International Council, Diversity Peer Educators, Officer's Christian Fellowship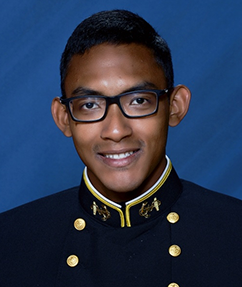 The move from Mauritius to USCGA was the greatest transition of my life and I was excited to finally experience life abroad and represent my country in the world's greatest Coast Guard. The transition to this unique environment pushed me to adapt and quickly grow into an independent adult in the military. I never had to ask my parents for anything ever since I left the country. The cadet pay and various support programs at the Academy were enough for me to get along. The motivational support I receive from my friends and family is very important to me as it pushes me to work hard to make them proud. The long distance and Covid-19 restrictions made it difficult for me to return home, but I am very grateful to my shipmates who invited me to explore their states during holidays! In 2021 alone, I had awesome trips to Alaska, Florida, Pennsylvania, and Texas with my friends and often visited my assigned sponsor family who live close to the academy.
Despite the smooth transition, I struggled with a feeling of loneliness when I realized that my friends from Mauritius could not relate or even understand what my new life at the Academy looked like. I felt distanced and disconnected from everyone I love and struggled to emotionally connect with my new friends here, even though, I knew they were here for me. Eventually, everything turned around when I started understanding how American friends interact with each other and realized that everyone expresses their appreciation for someone in a different way. I also realized that my friends from Mauritius were always excited to hear about my adventures and strongly rooted for me even if they didn't fully understand life at a service academy.
Looking ahead to graduation, I want to work on drug interdiction and anti-piracy in Mauritius. Being an island nation, my country has a large maritime territory to manage. I cannot wait to bring back home all the knowledge I am acquiring through the United States Coast Guard!