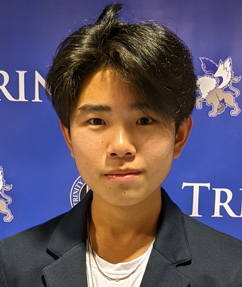 Describe your initial impression of AIM in five words or less.
Very intense and fast-paced.
Did all your physical fitness preparation pay off?
Yes, it really did help that my cardio was in tip-top shape coming into it. There was a lot of running and moving to different kinds of places and I know some of my shipmates struggled to keep up at times, but you must be there for them as well.
I managed to get around a 265 on the PFE and contributed a lot physically when it came to competing with other platoons (We got honor Platoon in the end). I cannot stress enough the importance of training and keeping your fitness levels above average. It is so vital to your survival in not only AIM but also in swab summer.
What was the most interesting thing you learned about the Academy that you didn't already know?
The number of things swabs have to memorize. Even for us, there was a  lot of material that needed to be memorized in order not to get constantly yelled at or stuck out from the crowd. I had a chance to speak to swabs and they showed me this small thick book and told me that they had to know basically the front and back of it which is pretty cool but at the same time terrifying.
What was your biggest challenge and how did you overcome it?
It was sounding off. I never had an issue with my volume but rather the number of times we had to sound off. During a room inspection one day, my roommates and I had to yell "Dusty, dusty, dusty," for 20 minutes straight because the  floor had a speck of dust on it. It can be brutal on your vocal cords and a lot of people lost their voices (especially the cadre) on  day 3. I literally just inhaled honey and the cough drops they offered at any time I could and it really did help and I recommend taking some of your own.
Looking back, would you have done anything different to prepare yourself for AIM?
Probably look over the Coast Guard mission, ethos, core values, and traditional questions before coming to the program since they do stress the importance of knowing it. They do give you time to memorize it in the actual program, but it would just be more convenient to know it ahead of time.
What surprised you the most about AIM?
What really surprised me about AIM was how close every AIMster became at the end of it. I know for my platoon it was kind of awkward and tense because we messed up a lot and we were decentralized but sharing pain, learning new things, and especially rooming with each other played a huge role in the brother and sisterhood that was present on day 5 or 6. I never would have expected to be so close and comfortable with these other people that I had just met.
Can you identify a noticeable difference in yourself after attending AIM? If so, what?
Definitely, for the first 3 days  after AIM, I would wake up at 5 and it was a surprise  since I didn't have cadre screaming in my ear to wake up. For me it was kind of hard to readjust to normal life even though it was only a week. I would wake and be like no morning calisthenics? AIMster Chung doesn't have to respectfully ask for anything? It was weird. It just goes to show how memorable the experience was for me personally.
Would you recommend attending AIM? Why?
100% !!!  I would recommend anyone to attend AIM. I know a lot of kids who got into other summer seminars and CHOSE to not apply here knowing it's going to be hard but you do not want to miss out on this opportunity.
This is the closest to real boot camp experience for the academies, and I believe it will  make you a stronger and harder individual to go through beast, swabs, or the other service academy boot camps. AIM taught a lot of kids too that maybe the military lifestyle isn't  for them and that's also ok. AIM is a great indicator for whether someone is ready or capable of actually surviving in a high stress and military-like environment.
Lastly, not on topic for any of these questions but I would really like to take this time to acknowledge all my cadres from Delta platoon because they were all such inspiring and cool people to meet. At first it was rough to meet people like Mr. Butler or Mr. Eichelberger but they were such great leaders, friends, and helpers for all of us and definitely made the AIM experience for me a blast.