Nicholas (Nick) H. Martin, MBA, MA, Lieutenant Commander, USCG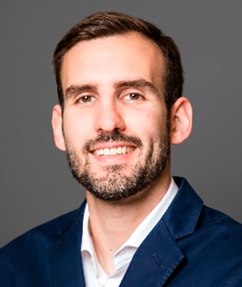 Lieutenant Commander (LCDR) Nick Martin graduated from the United States Coast Guard Academy in 2012 with a Bachelor of Science in Operations Research and Computer Analysis. During his first assignment, he led operations from the Arctic Circle to the Colombian coast as the Law Enforcement Officer onboard USCGC MIDGETT (WHEC 726), a 378-foot cutter homeported in Seattle, WA. In 2014, he transferred to Ketchikan, AK to serve as the Executive Officer of USCGC NAUSHON (WPB 1311), a 110-foot patrol boat tasked with conducting fisheries enforcement and search and rescue missions from Southeast AK to the Aleutian Islands. From 2016-2019, he was stationed at Coast Guard Headquarters in Washington, DC where he served as the Selection Panels, Advancements, and Career Retentions Section Chief in the office of Enlisted Personnel Management (EPM).
After his time ashore, he returned to the fleet to serve as the first Commanding Officer of USCGC DANIEL TARR (WPC 1136), the Coast Guard's first Fast Response Cutter homeported in Texas (Galveston). Following two years patrolling the Gulf of Mexico, he moved to Philadelphia, PA where he earned a Master of Business Administration (MBA) with a major in Marketing and Operations Management from The Wharton School of the University of Pennsylvania.
LCDR Martin is a native of State College, PA and completed a preparatory year at the New Mexico Military Institute before attending the Academy. In addition to his MBA, he earned a Master of Arts in Defense and Strategic Studies from the United States Naval War College while he was stationed in Washington, DC. He is married to Larissa Martin and has two sons – Quinton and Macaulay. Alongside his duties as an instructor, LCDR Martin is an assistant coach for the Academy tennis team.
Education
BS in Operations Research and Computer Analysis, U.S. Coast Guard Academy, 2012
MA in Defense and Strategic Studies, U.S. Naval War College, 2019
MBA, The Wharton School of the University of Pennsylvania, 2023
Courses Taught
Introduction to Business
Marketing