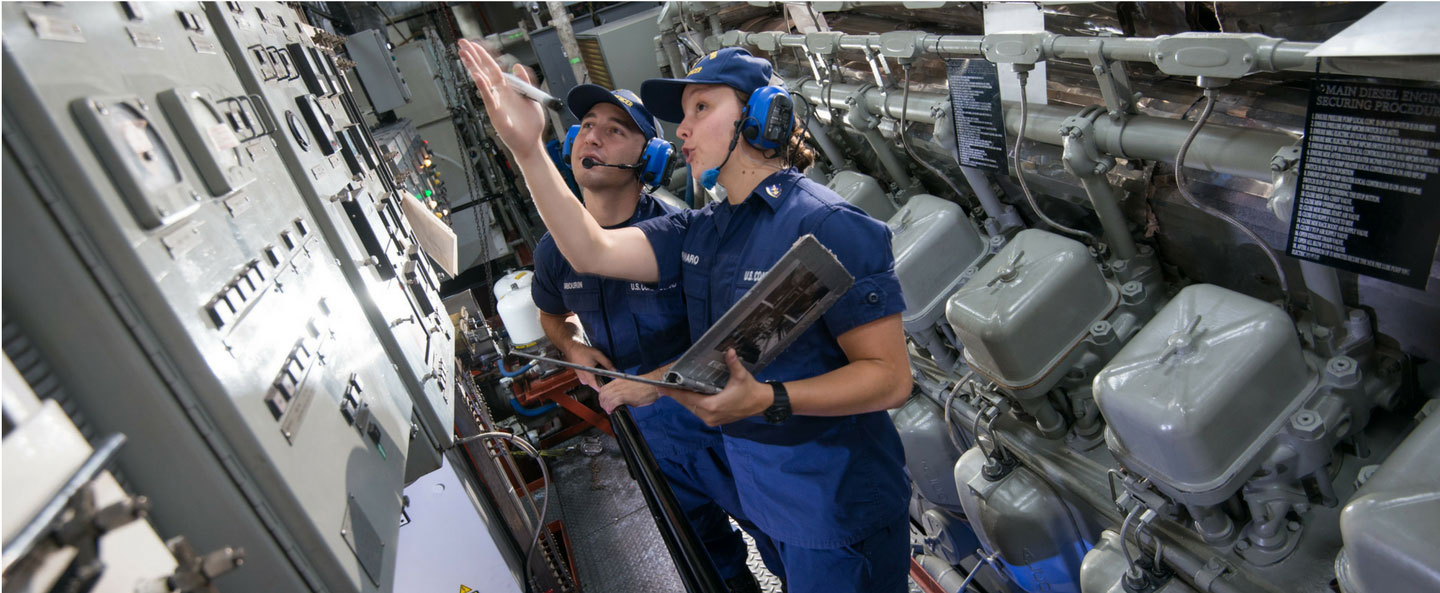 Mechanical Engineering Careers
Mechanical Engineering graduates are well positioned for a variety of careers – both within the Coast Guard and, after their duty, in private industry. Any career path is open to Mechanical Engineering majors; graduates do not necessarily have to pursue an engineering path within the fleet. Many do, however, and their engineering paths generally fall into one of three categories: afloat, ashore or aviation.
The Engineer Officer (EO) onboard a cutter is in charge of the largest contingent of the ship's force, oversees their training and career progression and is responsible for the maintenance, repair and safe operation of all machinery and equipment. Typical career paths include an Engineering Officer in Training (EOIT) tour upon graduation, and 2nd tour either afloat or shore-side engineering support, and graduate school. Typical graduate school tours focus on naval and marine engineering and mechanical engineering, at schools include University of Michigan, Virginia Tech, Drexel University and MIT.
Mechanical Engineering graduates can pursue a Port or Prevention Engineer career path. Port Engineers are responsible for providing engineering support in a port setting. As the first point of contact for technical staff, they are in charge of coordinating repair and maintenance functions. The Prevention Engineer career path encompasses marine and environmental protection. It deals with planning and preparing for disasters, both natural and man-made, and designing Coast Guard responses to them.
Similar to the Afloat Engineering Officer career, the Aviation EO is responsible for the maintenance, repair and the "safe-for-flight" condition of the airframes assigned to the air station or currently deployed onboard any Coast Guard cutter. Typical career paths begin with flight training at the Naval Aviation Training Center in Pensacola, FL, with a follow-on tour at a Coast Guard Air Station. Graduate school assignments typically focus on one of three majors – Aeronautical structures, Avionics and Project Management, or Industrial Administration – with most attending Purdue University, but also the University of Michigan, Johns Hopkins and the Colorado School of Mines.
Mechanical Engineering Alumni
Coast Guard Academy Mechanical Engineering graduates include: Coast Guard admirals, heads of industry, pilots, ships captains, astronauts, entrepreneurs and business owners across a range of fields, from aerospace engineering to ship building to restauranteurs and brewery owners.