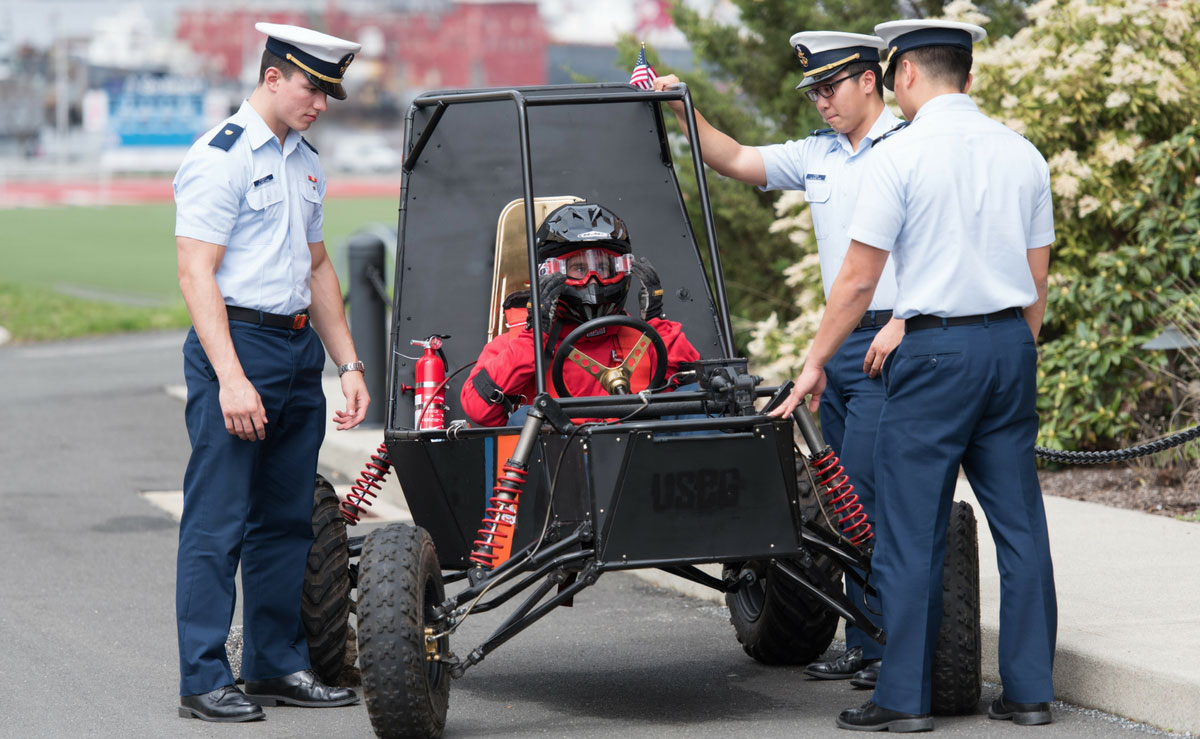 During 1st class (senior) year, teams of students work on a hands-on senior design (capstone) project to demonstrate their competence as practicing mechanical engineers. The capstone project requires cadets to use all of the theory that they have gained to generate a practical solution to a real-world Coast Guard or general mechanical engineering problem. Some solutions are implemented and some even receive a patent.
The capstone is broken down into two distinct semester-long courses. The first course, called Design Project Management, is offered in the fall semester of first class year and focuses on the engineering design process. The second course, called Mechanical Engineering Design, is offered in the spring semester of first class year and integrates the solution to the system and then analyzes system performance, safety, reliability, cost and socio-ecological impacts.
Cadets work in design teams of three to five members along with a project advisor who serves as a consultant to the team. Faculty members provide ongoing input to teams regarding technical content and feasibility. On the last day of spring classes, all cadets provide a group presentation, technical report and a prototype that represents the solution to faculty, peers, customers and stakeholders.
Solving Coast Guard problems:
Amphibious arctic lifeboat
Autonomous vessel to detect and clean up oil spills
Back-up hydraulic system for the HC-144's cargo ramp
Buoy split key removal device (patented)
Corrosion monitoring device for Coast Guard and marine industry assets (patented)
Cube satellites to monitor arctic ice
Educational demonstrator for regenerative braking/energy capture
Helicopter launched UAV
Modernization of a fixed wing UAV
Prototype boat davits for the new classes of Coast Guard cutters
Quick release flare tube adapter for the CG HC-144A "Ocean Sentry" aircraft (patented)
Redesign of the USCGC Polar Star oil distribution box propulsion shaft anti-roll bar mechanism (patent pending)
Submersible robotic hull cleaner
Optimized Helicopter Rescue Basket (patent pending)
Reverse osmosis clean water system for remote environments
Serving the wounded warrior:
Automated soft robotics cuff to maintain pressure on wounds during transport (patent pending)
Remote Activated CPR compression system (patent pending)
Robotic walking system
Competitions
Capstone Project - Gallery