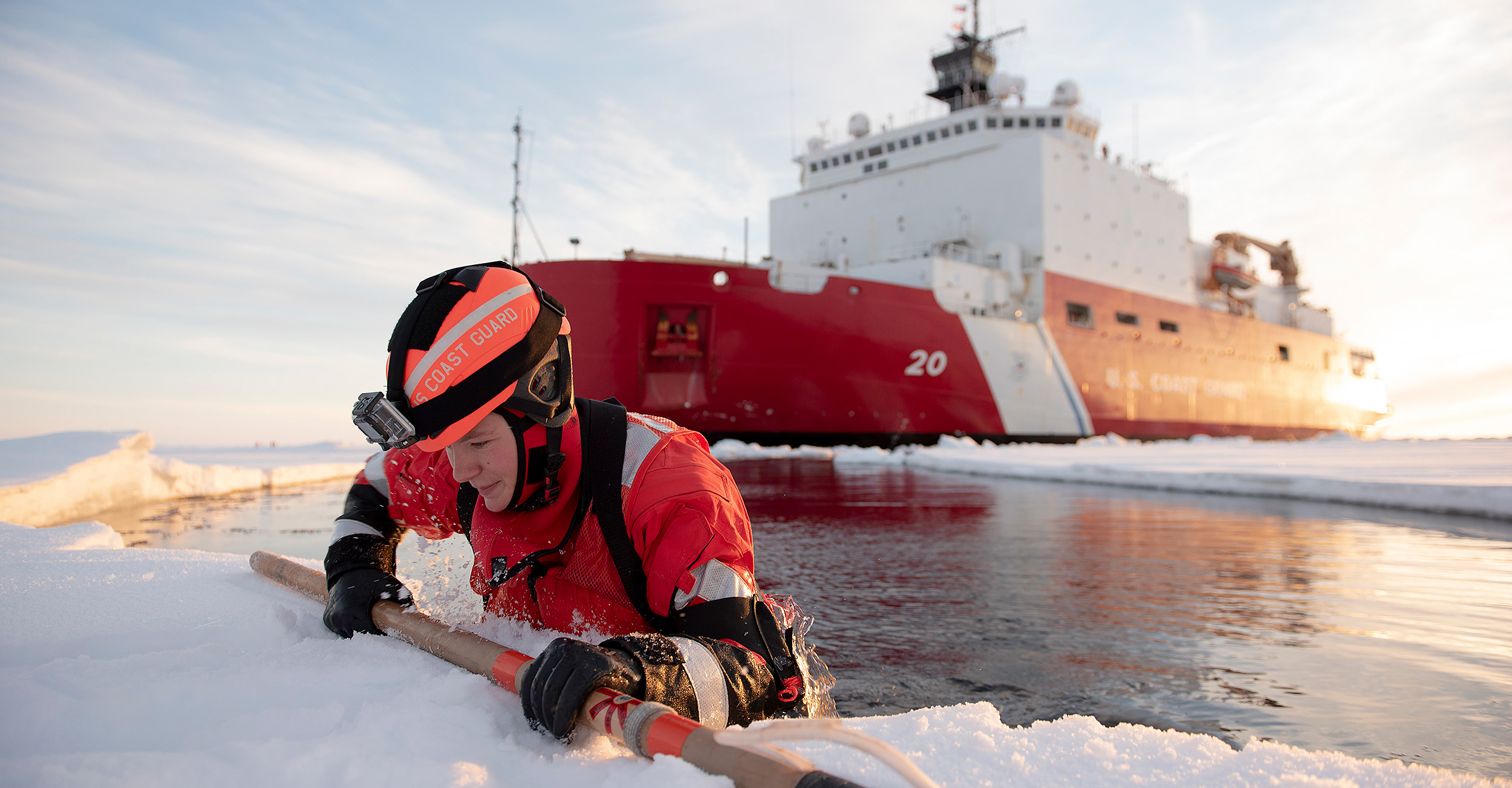 Center for Arctic Study and Policy
The Center for Arctic Study & Policy (CASP) develops and executes research and analysis to support U.S. Coast Guard missions and national policy and strategic objectives in the Arctic.  The Center helps stakeholders work together – including specialists from academia, government, indigenous peoples and organizations, non-governmental organizations, industry, international allies and partners, and the U.S. Coast Guard.
CASP supports Coast Guard interests in the Arctic through research, partnerships, and education. These efforts are focused on Coast Guard presence in the Arctic – to ensure safe, secure, and environmentally responsible maritime activity in this complex, changing environment.
At the Academy, CASP leads interdisciplinary efforts in the academic division, with Coast Guard sponsors and external partners, to develop solutions to maritime challenges in this region.  CASP is situated in the Academy's Office of Scholarship, Research, and Innovation.
CASP News and Initiatives
Vice Adm. Steven Poulin to Speak at August 2021 Artic eTalks
Polar Guardians: Coast Guard Icebreaking in the HIgh Latitudes
New federal Arctic policy includes focus on health, environment infrastructure
CASP News and Initiatives
2023 Arctic Emerging Leaders Program AAR
Arctic Frontiers Emerging Leaders 2020 Program
LUNCH & LEARN: CGA's Role in the Coast Guard's Arctic Interests
US Arctic Policy and the US Coast Guard
Polar Guardians: Coast Guard Icebreaking in the HIgh Latitudes
Hot Takes on the New Arctic Strategy: What's Changed and What it Could Mean for the U.S. Coast Guard
Center for Arctic Study and Policy
Executive Director
Anthony.L.Russell@uscga.edu
Administrative Support
(860) 444-8608
Troy.A.Castineira@uscga.edu