Corinna Fleischmann, Ph.D., P.E., C.S.B.A., Captain, USCG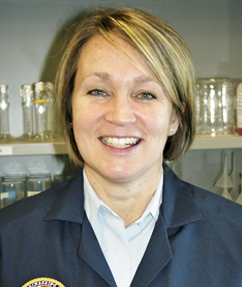 Captain Corinna Fleischmann is the Section Chief and Program Chair for Civil Engineering at the U.S. Coast Guard Academy. She has a Ph.D. in Civil Engineering from the University of Connecticut, a M.S. in Civil Engineering from the University of Texas, Austin, and a B.S. in Civil Engineering from the U.S. Coast Guard Academy from which she graduated in 1998.

CAPT Fleischmann joined the faculty at USCGA in 2004 and was selected as a member of the Permanent Commissioned Teaching Staff in 2009. Her research focuses on mitigation of impacts of storm water in the urban environment. While at the Academy, she has been an assistant coach on the men's and women's swim teams, faculty affiliate for the women's softball team, advisor for numerous clubs, and a member of the faculty senate.
Prior to joining the Coast Guard Academy faculty, CAPT Fleischmann was assigned to the U.S. Coast Guard Cutter Elm where she served two tours: as a Deck Watch Officer and Assistant Navigator and as the Operations Officer. In 2001, CAPT Fleischmann became a member of the Facilities Engineering Branch at the USCGA. During this tour, she served as both the Safety Officer and the Construction Officer where she was the Contracting Officer's Technical Representative (COTR) as well as Civil Engineering Project Manager for the Academy's $5.2 million dollar construction program including all aspects of the construction process: cost estimation, general scopes of work, management of change orders and contractor evaluations.
Education
Ph.D, C.E., University of Connecticut, December 2014
M.S.C.E., University of Texas, Austin, December 2004
B.S.C.E., U.S. Coast Guard Academy, May 1998
Courses Taught
Environmental Engineering II
Water Resources Engineering
Coastal Resiliency
Environmental Engineering I, Lecture and Lab
Civil Engineering Design, Lecture and Project Advisor
Construction Project Management, Lecture
Civil Engineering Materials, Lecture and Lab
Engineering Material Science, Lecture and Lab
Strength of Materials, Lecture and Lab
Statics and Engineering Design, Lecture
Selected Publications and Presentations
Jackson, H., K. Tarhini, C. Fleischmann, and E. Nakagawa "Ethics Activities in the Civil Engineering Curriculum at the United States Coast Guard Academy." Presentation and Panel Discussion follow-on from the NAE Infusing Ethics into the Development of Engineers Report. ASEE National Conference, New Orleans, LA, 28 June 2016.
Fleischmann, C. "Sustaining Undergraduate Sustainability Education." Proceedings of GeoChicago 2016: Sustainability, Energy and the Geoenvironment Conference, Chicago, IL, August 2016
Jackson, H., K. Tarhini, C. Fleischmann and E. Nakagawa. "Ethics Activities in the Civil Engineering Curriculum at the United States Coast Guard Academy." National Academy of Engineering, February 2016. Infusing Ethics into the Development of Engineers: Exemplary Education Activities and Programs. Washington: National Academies Press
Fleischmann, C., E. Nakagawa, and C. Verlindin. "GIS as a critical tool in a Water Resources Focused Civil Engineering Capstone". ESRI Water Conference, Austin, TX. February, 2016
Fleischmann, Corinna M., Atkinson-Palombo, Carol, Bushey, Joseph T., Jackson, Eric D., and Payne, David W. (2015) "Coupling Community Preferences with Hydrologic Evaluation of Low Impact Development Implementation in an urban watershed," Suburban Sustainability: Vol 3: Issue 1, Article 4.
Fleischman, C., Kelley, T., and Nakagawa, B. "Redesigning the Student Learning Approach through Personality Types and Pedagogies, A Case study in an Undergraduate Engineering Course," Universal Journal of Educational Research. 4 (2), 2015.
Jackson, H., Fleischmann, C. and Tarhini, K. "An Approach to Improving Student Learning of Civil Engineering Concepts Using Case Studies." Proceedings of the 45th ASEE/IEEE Frontiers in Education Conference, El-Paso, Texas, October 2015.
Fleischmann, C., Gates, B., Regan, M. "Developing STEM mentors from MSIs by partnering with a Military Service Academy," The Mentoring Institute 8th Annual Mentoring Conference Proceeding, Albuquerque, NM, Oct 2015.
Vlietstra, L., K. Mrakovcich, D. Bergondo, B. Stutzman, C. Fleischmann, and V. Futch. (2015). Hot Topics in the Classroom: Climate Change. National Marine Educators Association Conference, Newport, RI. June 2015.
Fleischmann, Corinna M., Atkinson-Palombo, Carol, Bushey, Joseph T., Jackson, Eric D., and Payne, David W. (2015) "Coupling Community Preferences with Hydrologic Evaluation of Low Impact Development Implementation in an urban watershed," Suburban Sustainability: Vol 3: Issue 1, Article 4
Fleischmann, C., Nakagawa, E., and Kelley, T. "Redesigning the Student Learning Approach through Personality Types and Pedagogies in an Undergraduate Engineering Course". ASEE Northeast Section Conference, Northeastern University, Boston, MA. April 30-May 02, 2015
Jackson, H., Fleischmann, C. and Tarhini K. "Work in Progress: An Approach to Improving Student learning of Civil Engineering Concepts Using Case Studies" Proceedings of the Frontiers in Education Conference, 2015.
Fleischmann, C. Evaluating Management Strategies for Urban Stormwater Runoff, Dissertation. Dec, 2014
Fleischmann, C., Bushey, J.T., Hays, J. "Evaluating the effect of watershed wide LID implementation in terms of mitigating CSOs and reducing stormwater contributions to urban streams" Proceedings of the New England Water Environment Association (NEWEA) 2013 Annual Conference, January 27-30, 2013, Boston, MA
Professional Memberships
Professional Engineer in Florida since 2007
Certified Sustainable Building Advisor (CSBA) through the National Sustainable Building Advisor Program since 2009
American Society of Civil Engineers
Society of American Military Engineers
Water Environment Federation Member