Abigail Miller, J.D., M.A., Lieutenant Commander, USCG
Government, Director of Law
Department of Government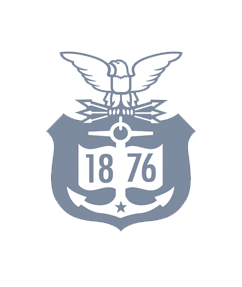 Lieutenant Commander Miller serves as the Director of Law in the Department of Government at the Coast Guard Academy where she oversees the instruction of all core cadet legal classes and instructs cadets in various legal topics. She is the lead advisor to the Cadet Law Society.
Lieutenant Commander Miller previously served as the Deputy Staff Judge Advocate and as an ethics official for the U.S. Coast Guard Academy in New London, Connecticut. The office furnishes legal advice to the Superintendent, Assistant Superintendent, and all other Academy divisions in areas of law that include federal ethics, fiscal law, contract law, environmental law, real property, claims, administrative law, use of non-appropriated funds, the cadet disciplinary system, employment law, and military justice.
In the winter of 2017, Lieutenant Commander Miller served for three months as a member of the Navy's Consolidated Disposition Authority's (CDA) legal team for the Glenn Defense Marine Asia (GDMA) cases. The team analyzed thousands of pages of evidence, coordinated with federal investigators, answered FOIA requests, and briefed the CDA on possible case dispositions.
Lieutenant Commander Miller has held various other assignments in and out of the legal specialty throughout her career including, deck department head on CGC ALERT (WMEC 630), patrol boat Executive Officer aboard both the CGC CHINCOTEAGUE (WPB 1320) and CGC KEY LARGO (WPB 1324), Assistant Staff Judge Advocate for the CGA, and Personnel Support Branch Chief of the CGA.
Born and raised on Orr's Island, Maine, Lieutenant Commander Miller loves the water and the outdoors. She currently resides in Ledyard, Connecticut with her husband, three children, and dog.
Education
J.D. with a concentration in Trial and Appellate Advocacy, Suffolk University Law School
M.A. in International Relations and Conflict Resolution with a concentration in International and Transnational Security Issues, American Military University
B.S., Electrical Engineering, U.S. Coast Guard Academy
Courses Taught
Principles of Criminal Justice and Maritime Operational Law
Standards of Conduct
International Law
Constitutional Law
Law of Armed Conflict
Honors and Awards
Lieutenant Commander Miller's military awards include the Meritorious Service Medal, Coast Guard Commendation Medal with Operational Distinguishing Device, Navy and Marine Corps Achievement Medal, Commandant's Letter of Commendation with Operational Distinguishing Device, and various service, unit, team, and other personal awards.
Professional Affiliations
LCDR Miller is licensed to practice law in Massachusetts.