José B. González, Ph.D.
Government, Professor of English
Department of Culture and Languages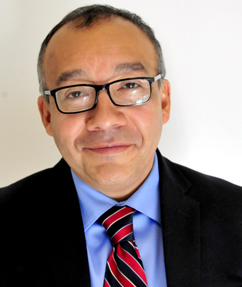 Dr. José B. González was born in El Salvador and came to the U.S. at the age of eight. He once knew no English and now is a professor of English with a PhD in English. He is the author of the Latino Book Awards Finalist Toys Made of Rock and the Connecticut Book Award Finalist, When Love Was Reels, as well as the co-editor (with John S. Christie) of Latino Boom: An Anthology of US Latino Literature. He has been anthologized in the Norton Introduction to Literature and has presented at colleges throughout the U.S. including at Harvard and Yale universities and at places such as the National Museum of the American Indian. He has been featured in the syndicated show, American Latino TV, Univision, NPR, and CBS News Radio. An audio recording of him reading his poetry has been archived at the Library of Congress. A photo of him and his sister as children and lines from his poetry are part of the first ever Latino exhibit at the National Museum of American History in Washington D.C. A Fulbright Distinguished Scholar, he has been the recipient of numerous awards including the NEATE Poet of the Year, NAME CT Faculty of the Year, and AAHHE Outstanding Faculty of the Year. He is the founder and Editor-in-Chief of LatinoStories.com.
Education
Ph.D. in English, University of Rhode Island
Master of Arts in Teaching English, Brown University
Bachelor of Science in Business Administration, Bryant University
Courses Taught
Public Speaking in a Diverse Society
Ethnic Literature of the U.S.
Creative Writing
Latino Literature
Literature of Humanity and Conflict
The Art of Effective Writing (Honors)
Honors Literature
Humanities in World Literature
Composition and Speech
Writing About Literature
Latinos in Film
Selected Publications and Presentations:
"Even Then That Dog." Here. 2022 Issue. Nominated for Pushcart Prize.
"The Man of the House," and "Reading a Manual." Nat. Brut. Issue 15. Fall 2021.
"And Then I Read About." Waking Up the Earth. Grayson Press. 2021. Nominated for Pushcart Prize.
"My Father, A Reader." Connecticut River Review. 2021 Issue.
"Middle School Tremain." I Sing: The Body Poems about Body and Image. Edited by Rene Saldana, Jr. Juventud Press. 2021.
"Shopping for Blouses," and "Third World Worms." Boston Review Special Issue on Ancestors. 2021.
"Charlotte." 2020 Connecticut Literary Anthology. September 2020. Nominated for Pushcart Prize.
"Conrad's Heart." The Chachalaca Review. June 2020.
"Another Master: Reading Dante's Canto I," and "Lust in the Projects: Dante's Circle II." Here: A Poetry Journal. 2018.
"Lines Breaking." Lines Breaking: The Central American Refugee Crisis. Featured Poem for special issue titled after and featuring original poem. 2018.
When Love Was Reels (Book). Houston, TX: Arte Publico Press. 2017. Finalist, International Latino Book Award and Connecticut Book Award.
"Scene with Pancho, The Cisco Kid (1950-1956)." The Wandering Song: Central American Writing in the United States. Eds, Leticia Hernández Linares, Rubén Martínez, and Héctor Tobar. Sylmar: Tia Chucha Press. 2017.
"Elvis in the Inner City." The Norton Introduction to Literature. Ed. Kelly J. Mays. 12th ed. New York: Norton, 2016. Reprinted from Callaloo: A Journal of African Diaspora and Arts and Letters. Volume 29, Number 3, Summer 2006.
"Scene with Ricardo Montalban, Fantasy Island (1977-1984)." Pittsburgh Poetry Review. Issue 4, November 2016.
"Back with Cantinflas: Ahi esta el detalle (1940)," "Scene with Marcelino Sanchez, The Warriors (1979)," and "Scene with Walk Proud (1979)." Kweli Journal. June 2016.
"Scene from the Ballad of Gregorio Cortez." Codex Journal. 25 June 2015.
Toys Made of Rock (Book). Tempe, AZ: Bilingual Review Press. 2015.
"On a Field Trip to Florence Griswold" (poem). Lay Bare the Canvas: New England Poets on Art. Beatrice Lazarus, Editor. Providence: The Poetry Loft. 2014.
"Scene with Dolores Del Rio," and "Scene from Los Olvidados" (poems). Theatre Under My Skin: Contemporary Salvadoran Poetry. San Salvador: Kalina Press. 2014.
"Hollow Shells Revisited" (poem). Paterson Literary Review. Issue #40/2012-2013.
"I couldn't for a teenaged bully's death" (poem). Bullying: Replies Rebuttals, Confessions and Catharsis. Magdalena Gomez and Maria Luisa Arroyo, eds. New York: Skyhorse Publishing. 2012.
"Toys Made of Rock," "Lines Breaking," and "Dark Cinderella," (poems). Quercus Review: Without Camels: A Caravan of Latino Writing. Summer 2010.
"At the Obituary Interview," and "Dirtied Gauzes" (poems). Naugutuck River Review. Winter 2010.
Hispanic Heritage Hypocrisy," Hispanic Outlook in Higher Education. October 2009
"After the Honduras-El Salvador Soccer War of 1969," "Brown University Librarian Strike—1990," and "i couldn't for a teenaged bully's death" (poems), Acentos Review, December 2008
"Fleeing from Work," "Football for the First Time," and "The Art of Flipping" (poems), Ocho, Number 15, Special Issue on Latino Poets, edited by Francisco Aragon, January 2008
"Jesus Colon's Truth-Seeking Disciple: An Interview with Martin Espada," Latino Studies 2007, 5, (123-128)
"Sociology 101: Essay on Illegal Immigration," The Teacher's Voice. Spring 2006, Volume 2, Number 1
"Elvis in the Inner City," Callaloo: A Journal of African Diaspora and Arts and Letters, Volume 29, Number 3, Summer 2006
"In the Company of Books" and "The Thanksgiving of No Mas," Palabra: A Journal of Hispanic/Latino Literary Art, August 2006
Latino Boom: An Anthology of U.S. Latino Literature. New York: Longman, 2006. Co-edited with John S. Christie. Includes original poems, "Autobrownography of a New England Latino," "Caribbean Fresco," and "Because No One Should Ask, 'Chavez Who?'"
"A Bilingual Conundrum." All Things Considered, National Public Radio, October 6, 2005
Entries in Encyclopedia of Ethnic American Literature, on Julia Alvarez, Junot Diaz, Martin Espada, Oscar Hijuelos, and Judith Ortiz Cofer, Greenwood Press
"Stealing Shakespeare." Coloring Book: An Eclectic Anthology of Fiction and Poetry by Multicultural Writers. Rattlecat Press, 2003
"A Striped Basilisk Lecture" (poem). The Leaflet. Vol. 102, Number 2, Spring 2003
"Harnessing the Power of the Spoken Word." The Hispanic Outlook in Higher Education. 16 June 2003. Volume 13, number 18
Poetry by the Finalists. Poet-of-the-Year Competition. 2002. New England Teachers of English. October 18, 2002
Selected Media Appearances
CBS News Radio Interview on Cesar Chavez and Dr. Martin Luther King
"Poet and Educator, Jose B. Gonzalez on the Immigrant Experience, Poetry, and Education." Interview with The Day
Library of Congress Spotlight on U.S. Hispanic Writers Recorded Interview: José B. González
"Two Poetry Prompts to Inspire Immigrant Teens." Teachers and Writers Magazine article featuring my his poetry
"The Poems of José B. González: Coping with Isolation." Hartford Courant.
Houston Public Media Interview: José B. González
KTEP NPR Words on a Wire Interview: José B. González
Poetry Foundation. Javier Zamora Interviews José B. González, from Letras Latinas Blog
Kweli Journal. A Black Belt in Words: Ivelisse Rodriguez Interviews José B.González
Syndicated National Show, American Latino TV
National Public Radio, All Things Considered
El Show de Analeh, Univision, Featured Guest Poet
Honors
State of Connecticut Artistic Excellence Award
International Latino Book Award Finalist, Best Poetry Book in English
State of Connecticut Arts Hero Award
State of Connecticut Book Award Finalist for Poetry
CT Latino News as a "Champion of Change" Identidad Latina Latino De Oro (Arts and Culture) Award
Coast Guard Academy Alumni Association Distinguished Faculty Award
Fulbright Distinguished Scholar
American Association of Hispanics in Higher Education Outstanding Latino Faculty of the Year
New England Association of Teachers of English Poet of the Year
National Association for Multicultural Education Faculty of the Year—State of Connecticut
Higher Education Multicultural Faculty of the Year