Jonathan M. Lang, M.A., Lieutenant Commander, USCG
Government, Instructor
Department of Culture and Languages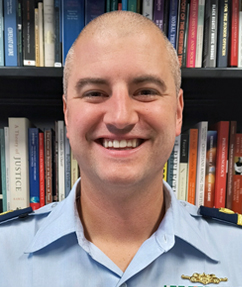 Lieutenant Commander (LCDR) Lang currently serves as an Ethics Instructor in the Department of Cultures & Languages at the United States Coast Guard Academy. He graduated from the Academy in 2011 with a Bachelor of Science in Government. He holds a Master of Arts in Theology from Franciscan University of Steubenville and a Master of Arts in Philosophy from Marquette University.
LCDR Lang is a permanent Cutterman with extensive operational experience servicing aids to navigation, conducting domestic ice-breaking, and providing law enforcement oversight to protect our nation's living marine resources. In 2011, he was assigned as a Deck Watch Officer to the U.S. Coast Guard Cutter (USCGC) ALDER in Duluth, Minnesota. From 2012-2014, he was assigned as the Operations Officer on USCGC FIR in Astoria, Oregon. LCDR Lang served as the Executive Officer on USCGC LONG ISLAND in Valdez, Alaska from 2014-2016. There he coordinated the decommissioning of USCGC LONG ISLAND and USCGC FARALLON from active service and oversaw the change of homeport of USCGC CHANDELEUR to Valdez. In 2019, LCDR Lang reported back to USCGC ALDER to serve as the cutter's Executive Officer. Additionally, from 2016-2019, LCDR Lang served as the Commanding Officer of the Gulf Regional Fisheries Training Center in New Orleans, Louisiana, producing high quality training, enabling Coast Guard boarding officers in the Gulf of Mexico to skillfully enforce federal fisheries regulations.
His military decorations include the Coast Guard Commendation Medal with Operational Distinguishing Device (2), the Coast Guard Achievement Medal with Operational Distinguishing Device (2), and the permanent Cutterman's Insignia.
LCDR Lang is a native of Indianapolis, Indiana. He is married to his wife, Katie, of Brookfield, Wisconsin. They reside in southern Connecticut with their six beautiful children: Joshua, Kevin, George, Levi, Frances, and Gertrude.
Education
M.A., Social and Applied Philosophy – Marquette University (2023)
M.A., Theology and Christian Ministry – Franciscan University of Steubenville (2019)
B.S., Government – United States Coast Guard Academy (2011)
Courses Taught
Moral, Ethical, and Political Philosophy
Introduction to Moral and Ethical Philosophy
Research Interests
Moral/Ethical Philosophy
Moral Theology
Political Philosophy
Political Theology
Professional Affiliations
American Catholic Philosophical Association
Word on Fire Institute