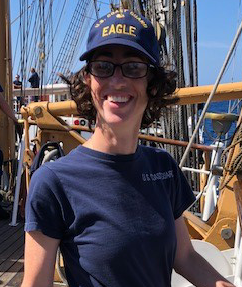 On why you chose the major:
I appreciate the beauty of how the sciences are interlinked: biology is founded on chemistry, chemistry is founded on physics, and physics is founded on math. Once I was able to appreciate how foundational principles explain everyday life, my eyes were opened to how the world works.
On the MES faculty:
While I chose MES for the course content, the faculty were exceptional facilitators and certainly made my learning experience more meaningful by pushing me to be my best. The MES faculty also had a vested interest in me beyond my education.
On attributing your major to your Coast Guard career success:
Perseverance, using written resources/references and teamwork with lab partners. You get out of it what you put in, both for education and professional development. Serving in the Coast Guard is a once-in-a-lifetime opportunity!