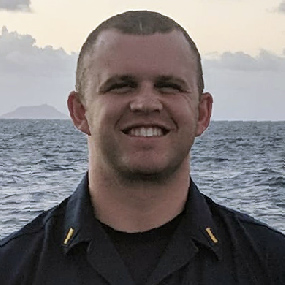 On the major's impact to your Academy experience
My academic advisor got me involved with a research project during my junior and senior years in which a small team of us designed a detailed experiment to analyze corrosion rates on sunken vessels in support of a National Parks Service (NPS) initiative to study the rate of hull deterioration on the wreck of the USS ARIZONA in Pearl Harbor, HI. The project involved many scuba diving excursions across New England and Hawaii as well as multiple presentations of research details to DoD, NPS, NOAA, and other agency personnel. I loved this project because of the unforgettable hands-on diving and experimental design experience, and the invaluable knowledge I gained.
On special skills developed during your MES studies
The development of a scientific mind is extremely useful to the development of critical thinking and analyzation skills necessary to a graduate's success as an officer. I have found that my abilities to organize, compartmentalize, and prioritize information have flourished in my practical experience in the fleet, especially as a young junior officer onboard a ship with over half a dozen collateral duties demanding my attention at all times. These skills were honed and improved significantly during my time at the CGA studying in the MES discipline.
On recommending the MES major
The MES major uniquely prepares graduates with in-depth knowledge of fisheries, marine mammals, and oil/HAZMAT spill response. These areas of focus make up a significant portion of the Coast Guard's law enforcement and environmental protection missions. Going into the fleet with a familiarity on these topics makes it much easier to integrate into the operational aspects of safeguarding these resources.