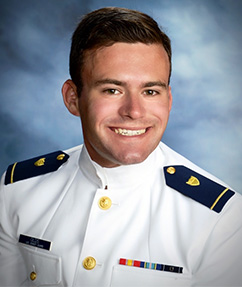 Also accepted to the Naval Academy, Bayley Olds chose the Coast Guard Academy because of the Coast Guard's mission and its small, family aspect. With a clear vision of what he sought in a career, Bayley was drawn to the Academy, and the Naval Architecture and Marine Engineering major, and is thriving as a result.
On choosing the NA&ME major
"I picked Naval Architecture and Marine Engineering, because I've been around the water all of my life, including two-time National Champion in Flatwater Sprint Kayaking in high school. I've always paid attention to how vessels move through the water."
On the NA&ME "family"
"My classmates and instructors in NA&ME are the best at the Coast Guard Academy. I truly believe that we have one of the most close-knit majors. There are always people to go to for help – or a good laugh."
On the value of the NA&ME major
"Learning about NA&ME is vital in almost every Coast Guard career track. The major is valuable whether you are the Engineering Officer on a cutter and doing what you learned every day, or a helicopter pilot and being able to identify when the vessel beneath you is about to capsize.
On what lies ahead
"As I look ahead to my career, I hope to go to Flight School and become a Coast Guard aviator. Who knows, I may design a seaplane one day and bring everything together!"