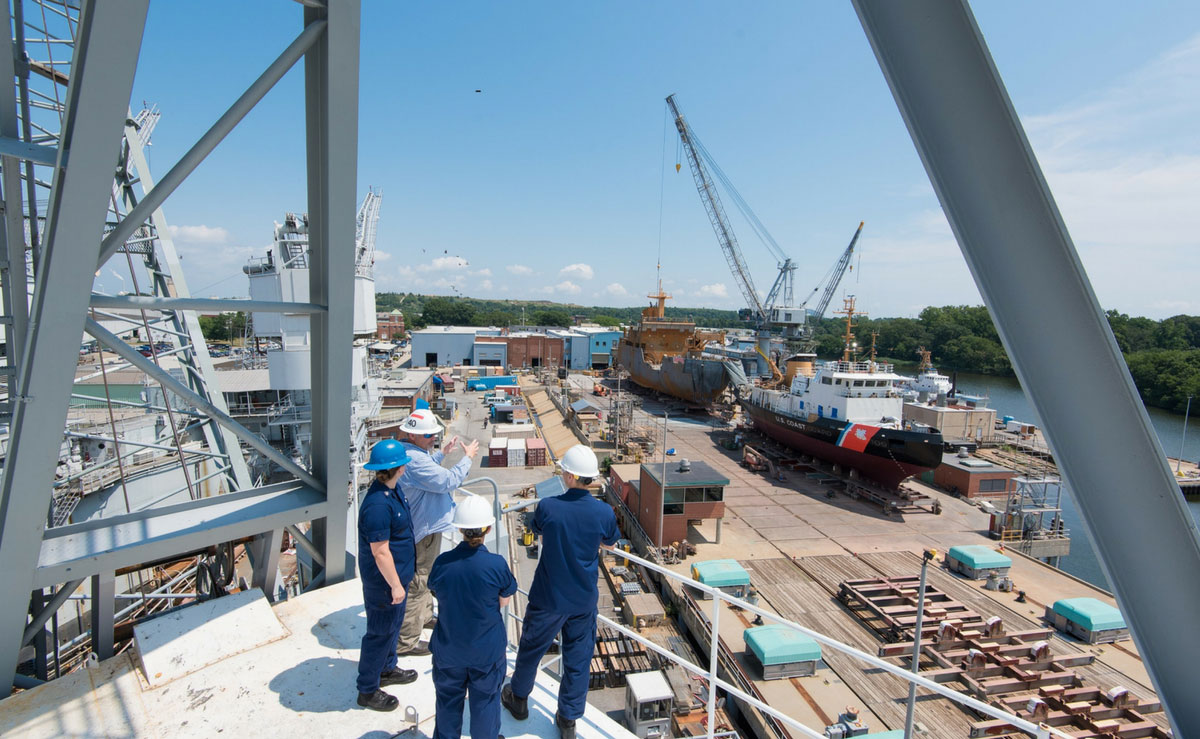 Naval Architecture and Marine Engineering
Naval Architecture and Marine Engineering (NA&ME) internships provide hands-on engineering experiences that teach valuable skills, while offering an exciting opportunity to learn about Coast Guard engineering careers. Interns are able to meet and work alongside NA&ME professionals, spend time in a shipyard construction/repair setting, and develop key relationships with engineering leaders that can be leveraged in the future.
During 1/c summer (entering senior year), NA&ME interns engage in a six-week engineering experience at one of several U.S. Coast Guard units that are performing NA&ME work for the fleet or for the maritime industry. The NA&ME major offers two categories of internships – Naval Engineering and Marine Safety/Prevention – with each category offering two types of internships.
Naval Architecture and Marine Engineering majors participate in a wide variety of internships, covering many areas of interest, including:
Naval Engineering Internships
Shipboard Engineering Department and Coast Guard Yard – Interns work in the engineering department of a Coast Guard cutter for six weeks and then transfer to the shore-side support unit for that asset. They get a chance to see a realistic first tour engineering experience onboard the cutter followed by a shoreside naval engineering assignment.
Project Resident Office – This program sends cadets to one of the shipyards contracted to build new Coast Guard cutters to give them exposure to Coast Guard acquisitions – how new assets are built, what roles the government plays in the process and how changes are made throughout the extended build process for numerous hull forms.
Marine Safety/Prevention Internships
Marine Safety Center, Washington D.C. – In this five- to six-week experience, interns shadow engineers and are exposed to the many opportunities available in the Marine Safety career track. Cadets pursue an independent project – studying, researching and reporting on a current topic of interest within the marine safety/prevention engineering field.
Ship Rider Program – Interns directly engage with maritime professionals and experience working life aboard a variety of commercial vessels, such as foreign cruise ships, domestic deep-draft freight and tank ships, and brown water-tow boats. The final week of the internship is at a Sector learning about the regulatory compliance aspects of the vessels they rode.