Tara Larkin, M.S. Lieutenant, USCG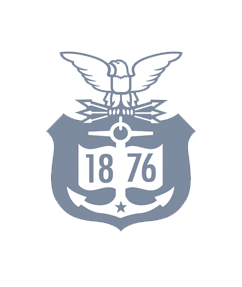 LT Tara Larkin is a 2016 graduate of the Coast Guard Academy's Mechanical Engineering program. She completed her first tour aboard USCGC ALERT as the Damage Control Assistant and Auxiliary Division Officer. She then attended University of Michigan, where she graduated with a Masters degree in Mechanical Engineering. Following graduate school, LT Larkin was assigned as a staff engineer at the Marine Safety Center, where she conducted technical reviews of commercial cargo, towing, and passenger vessel designs, and served on the Salvage Engineering Response Team (SERT). She joined the Naval Architecture and Marine Engineering faculty in June 2021.
Education
M.S., Mechanical Engineering, University of Michigan, 2020
B.S., Mechanical Engineering, U.S. Coast Guard Academy, 2016
Courses Taught
Ships and Maritime Systems
Material Science
Professional Memberships
Society of Naval Architects and Marine Engineers

Links from these pages to non-Coast Guard sites are provided as a customer service and do not represent any implicit or explicit endorsement by the United States Coast Guard of any commercial or private issues or products presented there.