School of Engineering and Cyber Systems
The School of Engineering and Cyber Systems (SECS) delivers a highly ranked undergraduate engineering education in a close-knit academic community. The School develops graduates who are professionally, ethically, and culturally competent officers focused on meeting the needs of the Service and the Department of Homeland Security, improving unit performance and the lives of others.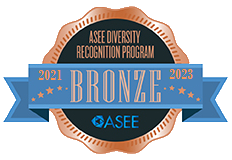 The Academy is recognized by the American Society for Engineering Education (ASEE) as an engineering college that has and continues to make significant, measurable progress in increasing student diversity, inclusion and degree attainment.
Departments
Civil and Environmental Engineering
Electrical Engineering and Computing
Mechanical Engineering
Naval Architecture and Marine Engineering
Situated in a small professional college, engineering cadets and faculty form a powerful community founded on shared purpose – to engage, innovate, and solve the most pressing technical problems faced by the U.S. Coast Guard.
Cadets accelerate their education in a climate built for psychological safety, morale courage, and cultural competence. The First Year Engineering Advising program focuses on community building, exploration, networking, mentoring, and building confidence. Cadets participate in student chapters of professional societies, developing a strong sense of professional identity.
SECS faculty, cadets, and graduates provide distinctive capabilities as:
the primary source of engineering and cyber talent for the USCG
patent partners with the DHS Science and Technology directorate
project sponsors
"This semester a team of my first-class cadets started a preliminary design for a new class of Coast Guard ships – the Arctic Security Cutter. Our presence in polar regions is an American strategic imperative, and the USCG must be able to project its presence to meet military, scientific and humanitarian objectives. These cadets will practice naval architecture and learn a lot about polar challenges. Their work may contribute directly to the production of a future class of ships designed to meet these challenges."
CDR Tom DeNucci,
Naval Architecture and Marine Engineering Department
first time pass rate on fundamentals of engineering exam
School of Engineering and Cyber Systems
Dean (860) 444-8550
Sharon.Zelmanowitz@uscga.edu
Administrative Assistant
(860) 701-6306
Lorraine.Eichler@uscga.edu